Model NO.:

Ferrous Sulfate Heptahydrate Pharmaceutical Grade

Certification:

ISO

Color:

Light Green, Green

Type:

Industrial Circulating Water Treatment Agent

Grade Standard:

Industrial Grade

Solubility:

Soluble in Water, Glycerin

CAS No:

7782-63-0

Einecs No:

231-753-5

Trademark:

KAITEDA

Specification:

25kg/50kg Bags

HS Code:

28332910
Acid-Base Property:

Acidic Surface Disposal Agent

Environmental Protection:

Yes

Appearance:

Crystallization

Model No.:

Ferrous Sulfate

Application:

Purifying Agent, Fertilizer

Insolubility:

Insoluble in Alcohol

Mf:

Feso4

Size:

Through 40 Mesh Sieve

Transport Package:

25kg/50kg Bags

Origin:

Shandong, China
Product Description
| | | |
| --- | --- | --- |
| Â Items | Â Guaranteed Specification | Â Typical Analysis Result |
| Â Feso4 | Â 98% min | Â 98.6% |
| Â Fe | Â 19.7%min | Â 19.9% |
| Â Pb | Â 20 ppm max | Â 12 ppm |
| Â As | Â 2 ppm max | Â 1 ppm |
| Â Cd | Â 5 ppm max | Â 3 ppm |
| Â Size | Â Through 40 mesh sieve | Â Through 40 mesh sieve |
Ferrous Sulfate
-Dry Crystal
-Fertilizer or Water-treatment
-Large Stock, Fast Delivery
-Dedicated Supplier Since 2010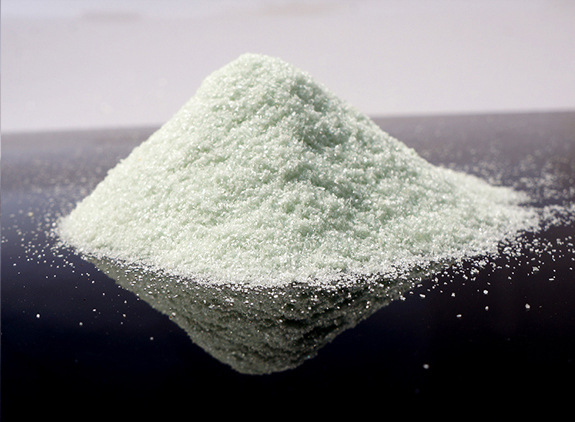 Ferrous Sulfate Features:
Iron(II) sulfate (Br. E. Iron(II) sulphate) or ferrous sulfate is the chemical compound with the formula FeSO4. It is used medically to treat iron deficiency, and also for industrial applications. Known since ancient times as copperas and as green vitriol, the blue-green heptahydrate is the most common form of this material. All iron sulfates dissolve in water to give the same aquo complex [Fe(H2O)6]2+, which has octahedral molecular geometry and is paramagnetic.
Industrially, ferrous sulfate is mainly used as a precursor to other ironcompounds. It is a reducing agent, for the reduction of chromate in cement.
Nutritional Supplement
Together with other iron compounds, ferrous sulfate is used to fortify foods and treat iron-deficiency anemia. Constipation is a frequent and uncomfortable side effect associatedwith the administration of oral supplements. Stool softeners often are bprescribed to prevent constipation.
Colorant
Ferrous sulfate can also be used to stain concete and some limetones and sandstones a yellowish rust color.
Water Treatment
Ferrous sulfate has been applied for the purification of water by flocculation and for phosphate removal in municipal and industrial sewage treatment plants to prevent eutrophication of surface water bodies.
Ferrous Sulfate Packaging &Â Shipping
25KG BAG, 50KG BAG or according to customer's requirement
Delivery time: Within 20 days after order be confirmed
Contact me 
Sales    Lisa
Mobile+8615554397297
Fax    00865434268950
email    sales003ATspringchemicalDOTcom
Website    www.springchemcal.com

PLS CONTACT ME!
 
Chandelier
Perfect for catching attention like no other lighting fixture, chandeliers of LEDER technology feature striking designs and bold illumination for a touch that's sure to elevate any space. This generously portioned piece is best suited to larger spaces like living rooms and formal dining rooms.
Strands of wooden beads in an airy cream finish cascade from the top to offer up a touch of natural style, making this design right at home in a cottage, modern farmhouse, and industrial arrangements alike.This design is guaranteed to grab glances, whether it`s greeting guests in the entryway or lighting up the dining room table. This chandelier is crafted from metal and wood, showcasing on its circular silhouette an array that lend a breezy, laid-back air to this distinctive design.It features an open design with a turned detailing finish, lending some traditional appeal to your arrangement.
Features:
• Natural Style Design
• Full of elegance and style
• Reasonable price
• Energy province electricity
• Quality Assurance
• Color temperature :3000k-6000K
• Details in place
• Type of protection: IP20
• Warranty for bulbs :2 years
Ideal for highlighting your space in a statement-making style. And has a very affordable price.
We have rich production experience in lighting.Except Decoration Lighting , we also offered other product in Indoor Lighting .Such as :
LED Panel Light , Track Light , Linear Light ,Wall Light , LED Strip Light , LED Tube Light , Cabinet Light , LED Bulb , LED Ceiling Light as so on .
Raindrop Chandelier,Sphere Chandelier,Chrome Chandelier,Small Beaded Chandelier
JIANGMEN LEDERLIGHT LIGHTING Co.,LTD , https://www.poollightsled.com